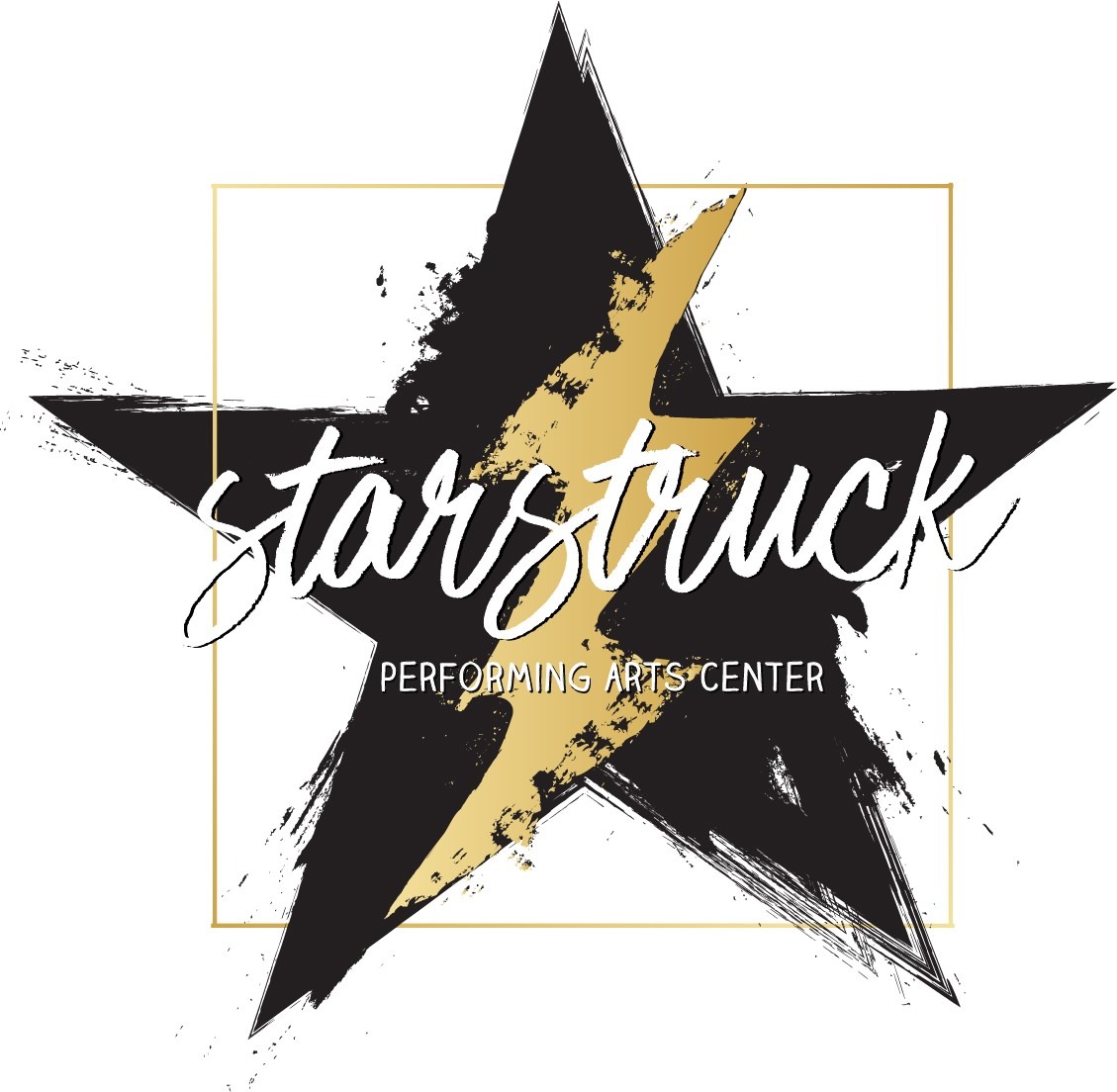 Starstruck Performing Arts Center
IT MATTERS WHERE
YOU DANCE
Join the Starstruck family to experience the best in dance education. Our expert staff of college educated, award winning teachers, have years of experience in education, performance, and the arts. Dancers of all ages and levels of experience are welcomed at Starstruck. We offer a large variety of classes for all levels of dance. Dancers from age 4 to 18 can experience the competition stage with as little as one hour of class per week. Auditions for our nationally recognized teams are in August.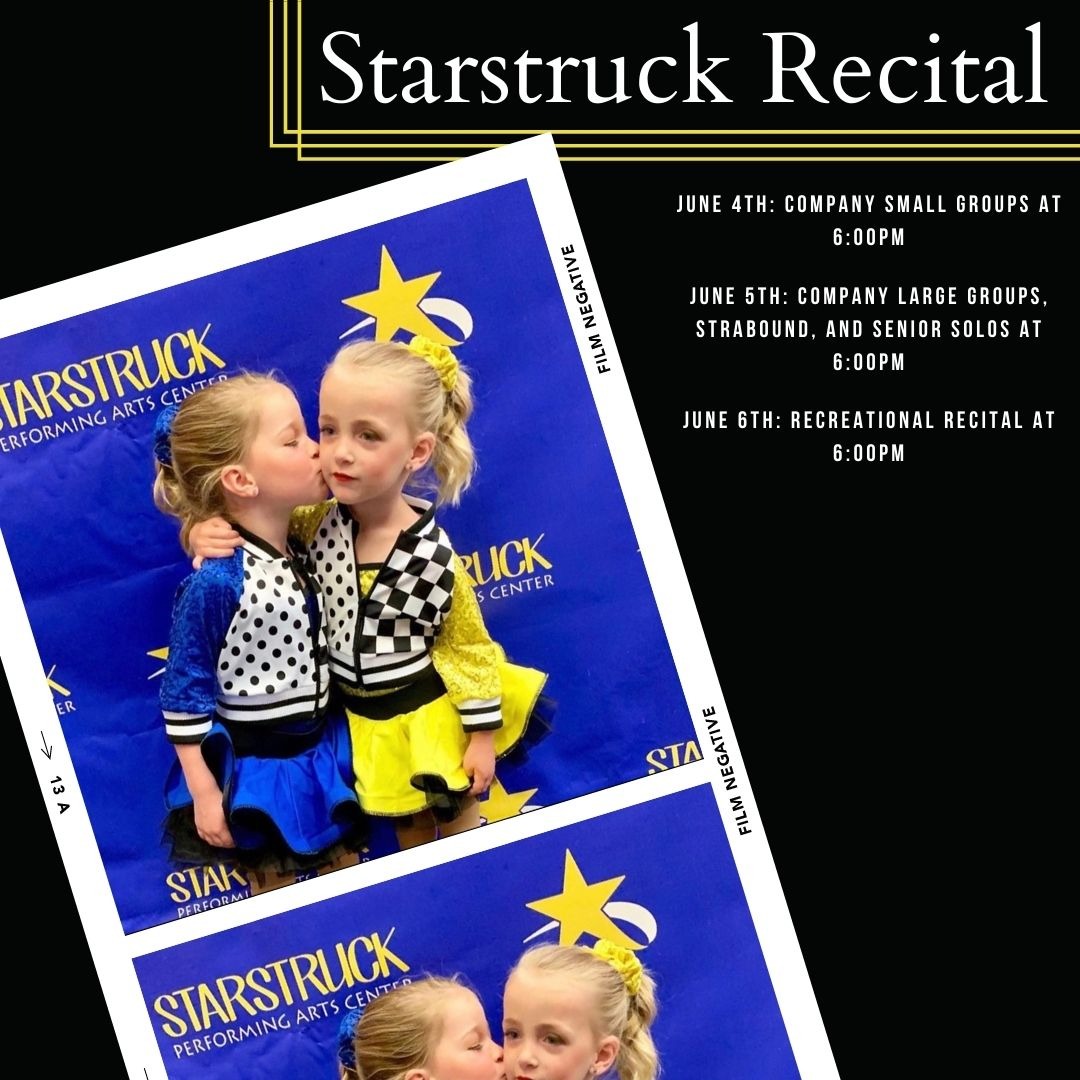 Desk is Staffed 4:00pm - 9:00pm M-T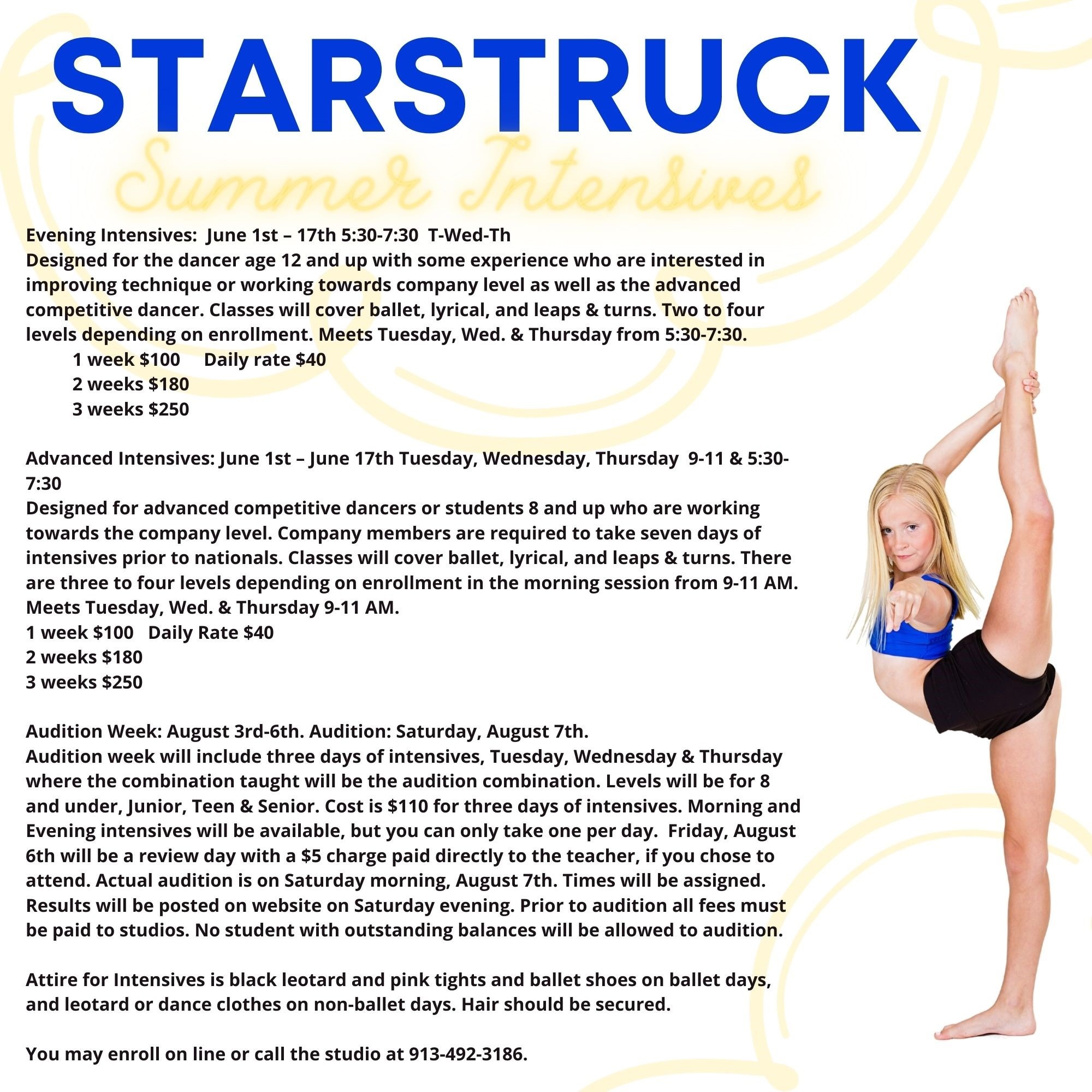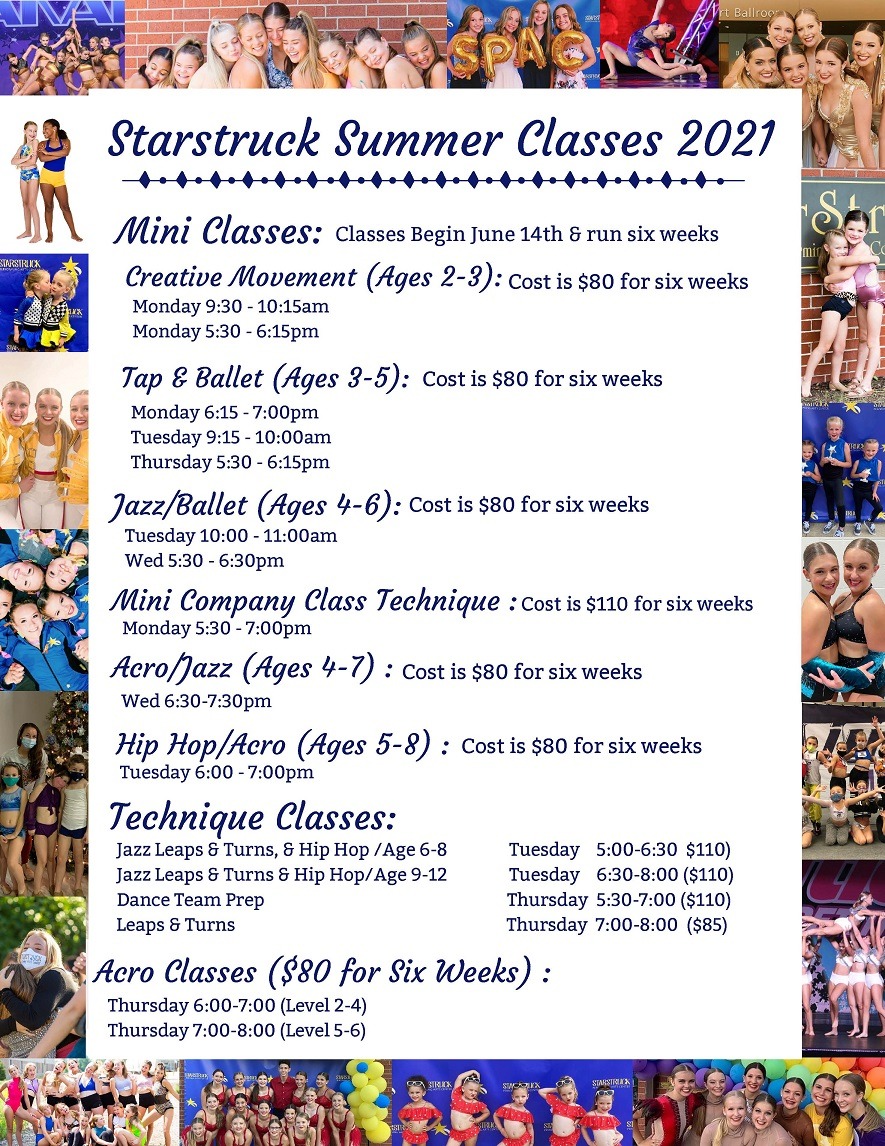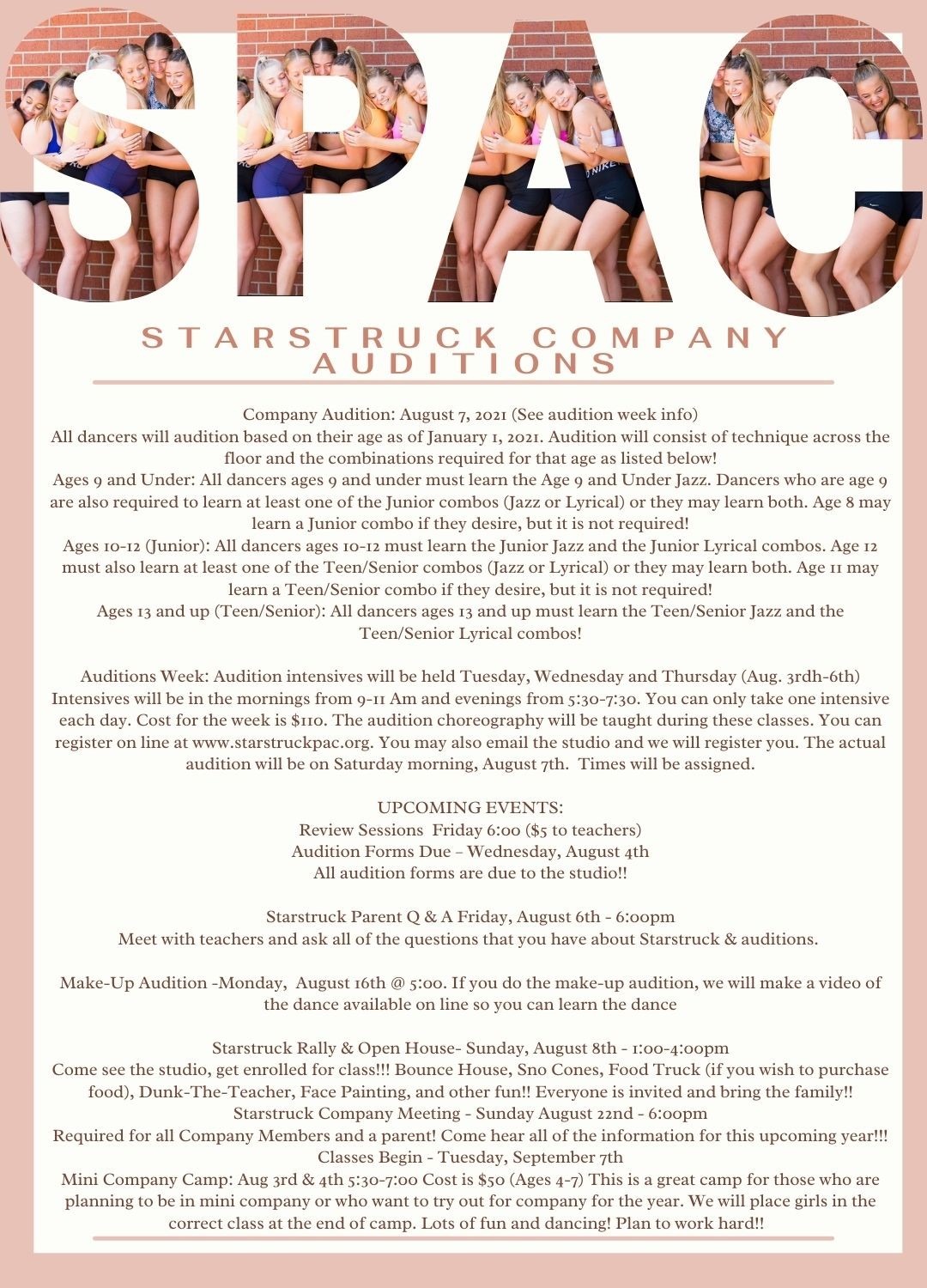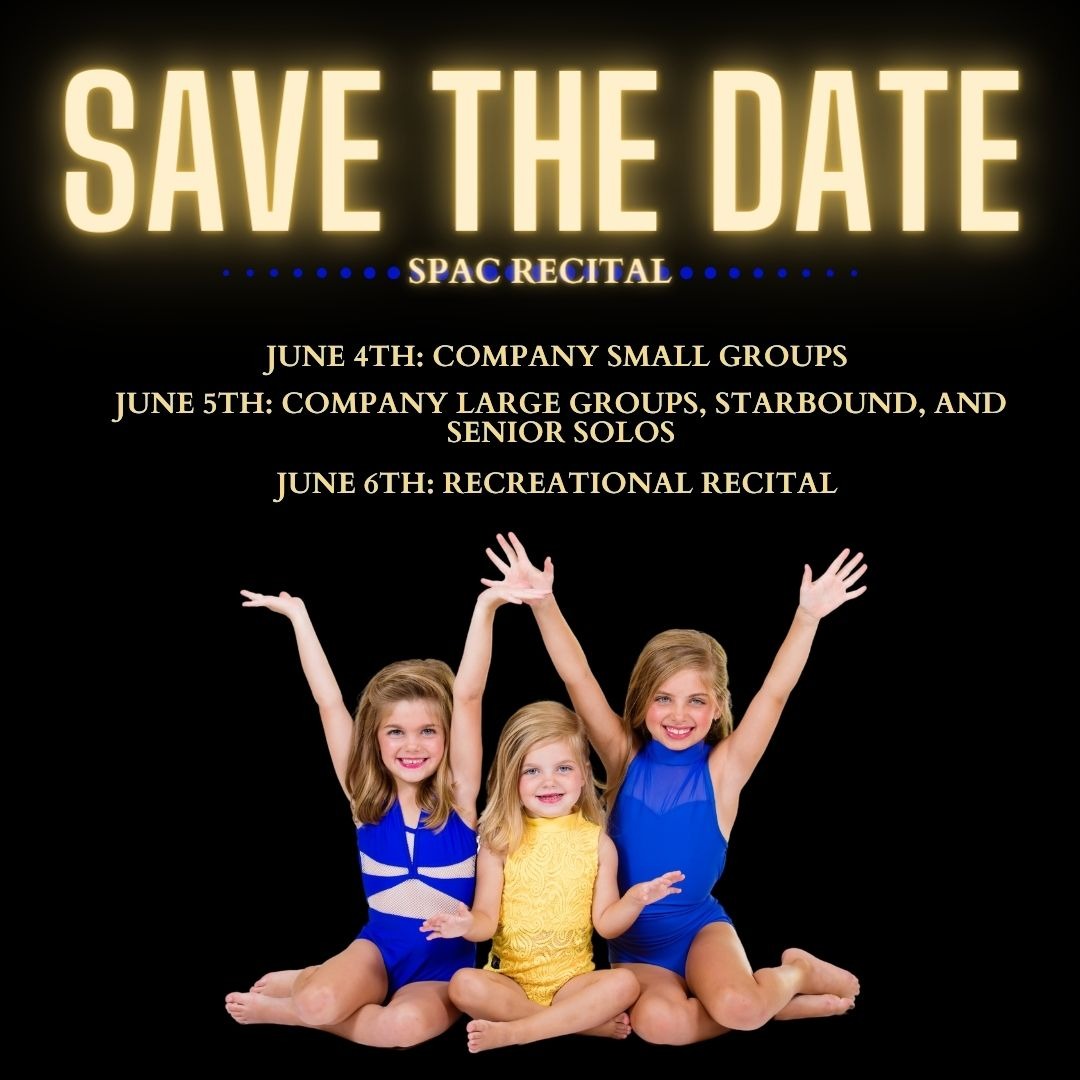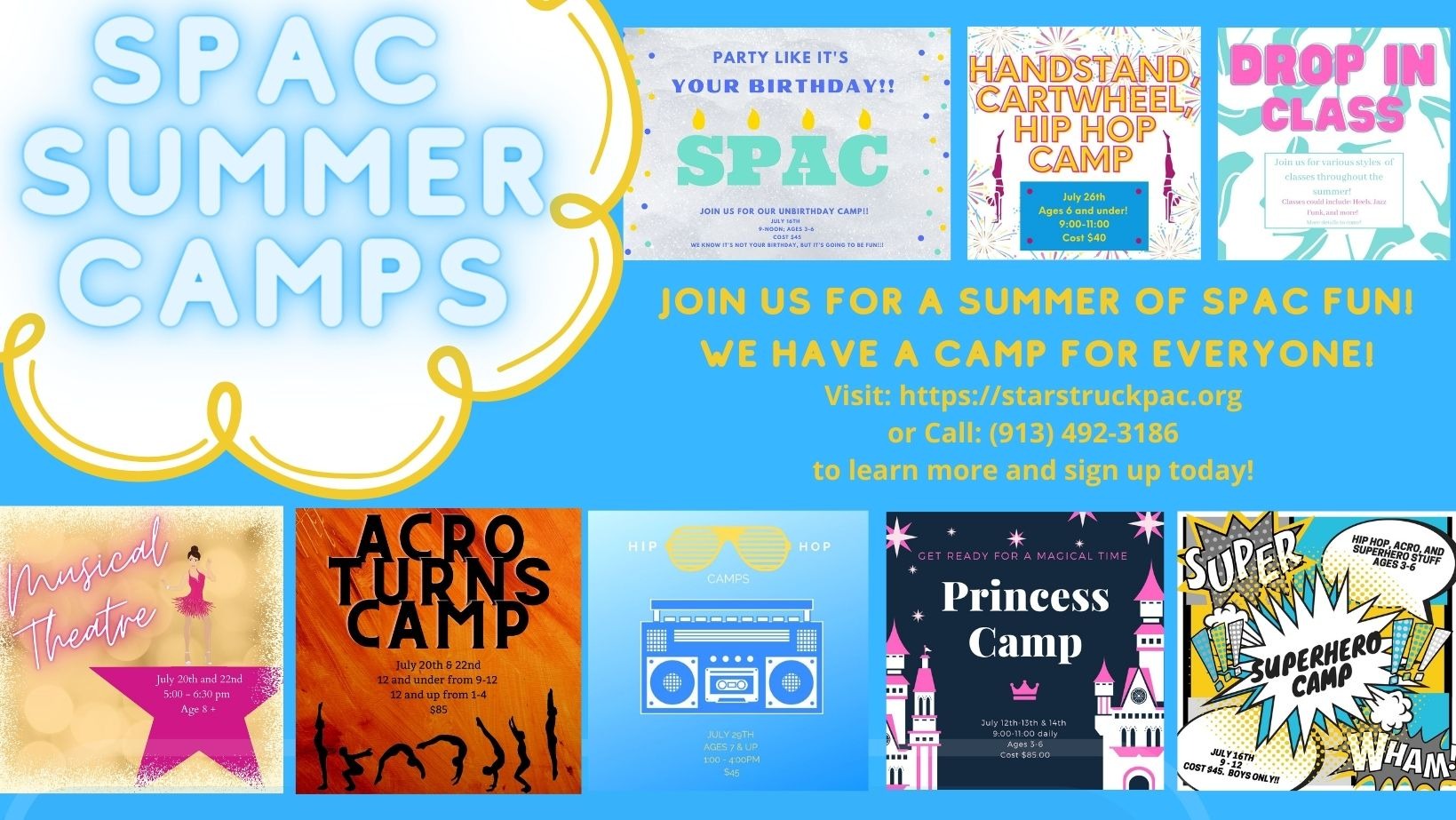 PENDING FALL SCHEDULE 2020-2021
Not all studios are created equal. Starstruck Performing Arts Center is nationally recognized and award winning, with graduates accepted into some of the most prestigious dance programs in the country.

Tap and hold or right click and save-as on the schedule below!
For any additional information:

Email Us at: starstruckpac@everestkc.net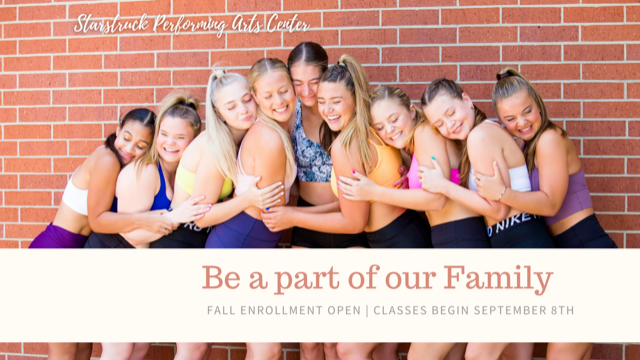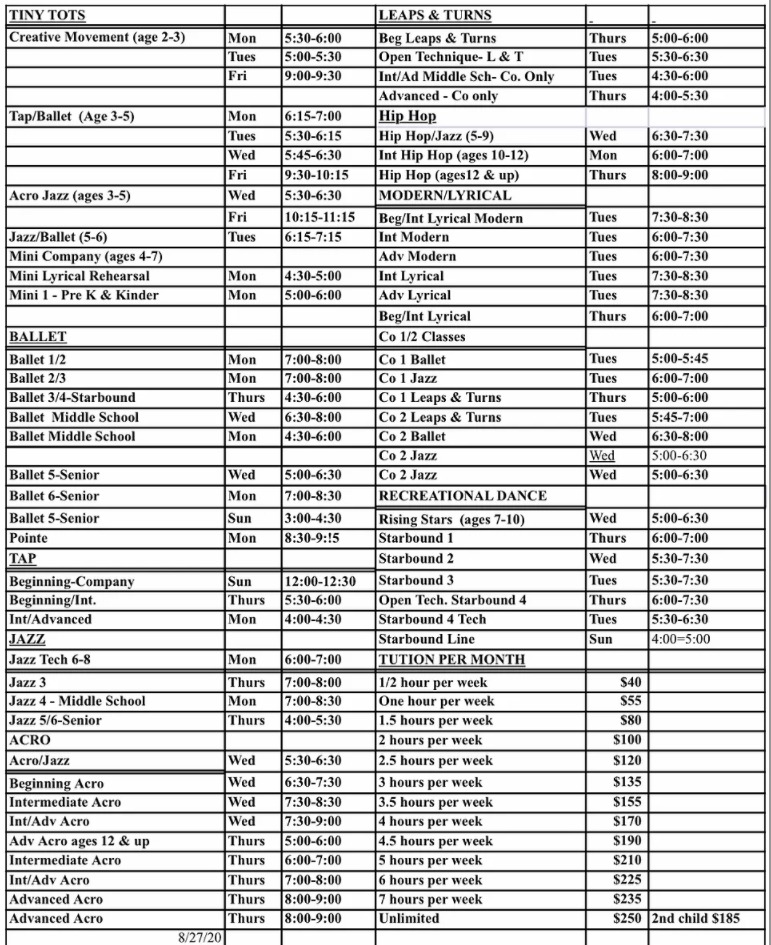 FALL COMPANY CALENDAR

2021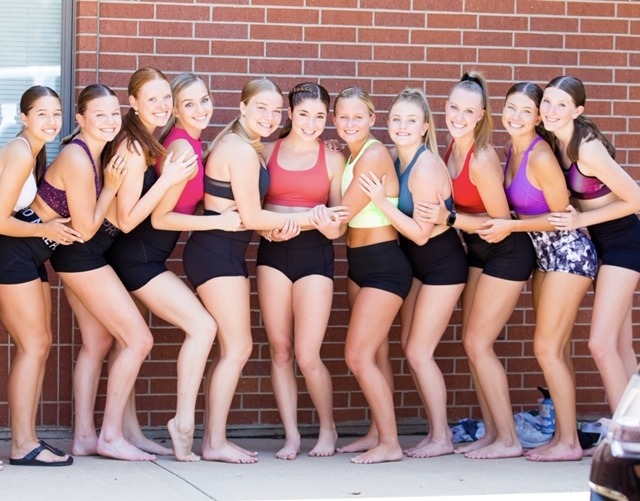 Please click the button below to download our fall 2021 company calendar. Scroll for our roster and more information.
2020 – 2021 Starstruck Company
Adelaide Franke, Ashlyn Morrow, Nora Link, Nora Worley, Bria Burdick, Izzie Morris, Gabby Harris, Madison Biddle, Aubree Nichols, Eden Bellis, Kennedy Meredith, Kynley Winn, Lilly Bennett, Lylah Worley, Malorie Morrison, Harper Link, Payton Lucas, Finnley McGuire, Teghan Maynard, Aurora Bellis, Ella Emmott, Ella Lustig,
Ryley Redmon, Halle Morrow, Makenna Ledou, Siena Stalone, Alexa Reeves, Brooklyn Weinberg, Melanie Morrison, Addyson Barker, Hayden Messer, Leah Shilling, Raegan Goldsberry, Ella Holbrooks, Lauren Krannawitter, Lily Tucker, Savannah Manganiello, Madison Finfera, Mackenzie Grann, Kaitlyn Mazzei, Clara Burdick, Lucy Wolf, Ashley Camp, Avery Pribyl, Grace Demetriou, Charlotte Bellis, Mia Krannawitter, Sayler Nguyen, Adelle Eikenbary, Alli Gervais, Caroline Vogel, Collin Montgomery, Trinity Baker, Adya Burdick, Aubrey Peters, Kate Cronenwett, Caroline Doolittle, Eli Hoedl, Gabby Ledou, Caroline Sorcher, Sofia Blades, Sophia Liperoute, Madelyn Hofer, Rylee Devorak, Sophia Steketee, Sydney Schuh, Mia Kate Reuter, Kaitlyn Gorsuch, Kayla Albold, Meghan Rigdon, Savannah Bellis, Anna Brazil, Audrey Brown, Gabi Ulvenes, Lauren Brock, Madeline Funkey, Mary Boetcher, Reagan Howard, Rayna Collins, Riley Anderson, Ellery Corcoran, Katie Heidemann, Sarah Gravitt, Courtney Krebs, Grace Falley, Olivia Thomas, Libby Dearasaugh, Arissa Turner, Riley Merrick, Paige Dinkel, Taylor Keal, Winnie Wolf, Maleah Boyd, Molly Hofer, Morgan Porter, Maggie Klumpp, Ayshah Kern, Kaitlin Mack
STARBOUND AND OTHER PROGRAMS
2020 – 2021 Starbound Roster
Starbound 1
Anistyn Williams, Ellie Hughes, Lilliane Eikenbary, Madison Burns, Charlotte Ammeen
Starbound 2
Kenzie Hughes, Cecelia Ammeen, Addison Heidebrecht, Royce Frank, Shane Anderson, Taylor Wendt, Kinzley Williams, Olivia Deschaine, Ainsly Leithead, Laila Mulhall
Starbound 3
Bridget Ammeen, Hannah Klumpp, Nola Frank, Emily Halse, Nicole Nana, Kendal Montgomery, Gretchen Anast, Kenna Fulghum, Neveah Mulhall, Kara Mack, Ella Hargens
Starbound 4
Jesikah Martinez, Liv Noble, Maya Griffith, Marin McElhinney, Graceyn Balmer, Lily Leever, Libby Hatton, Mia Ramos, Afreen Jaman, Prairie Cottrell, Laynie Manning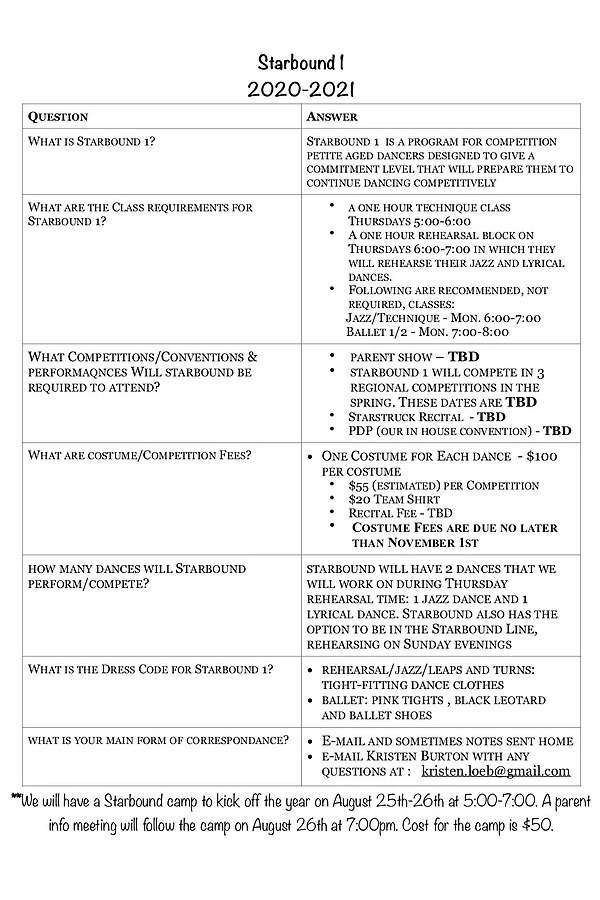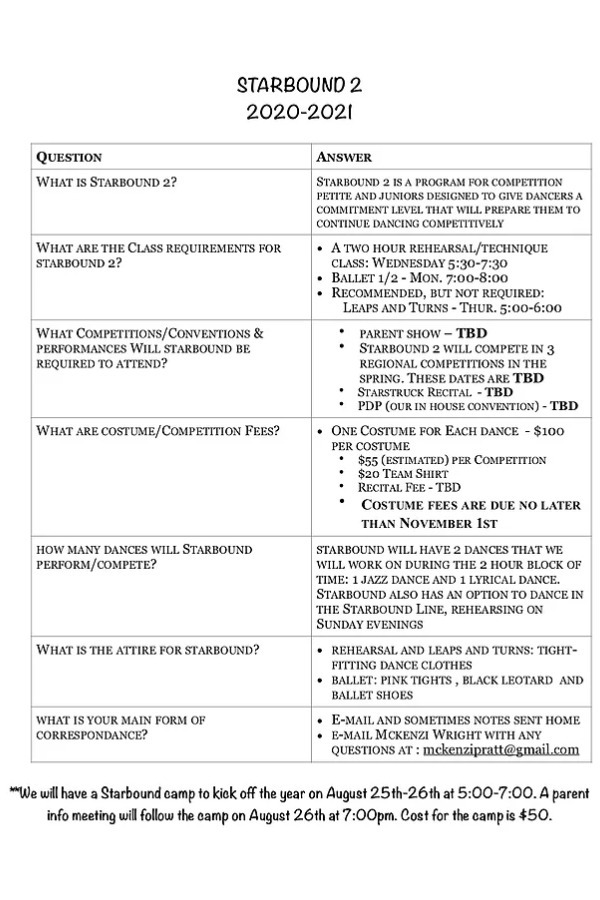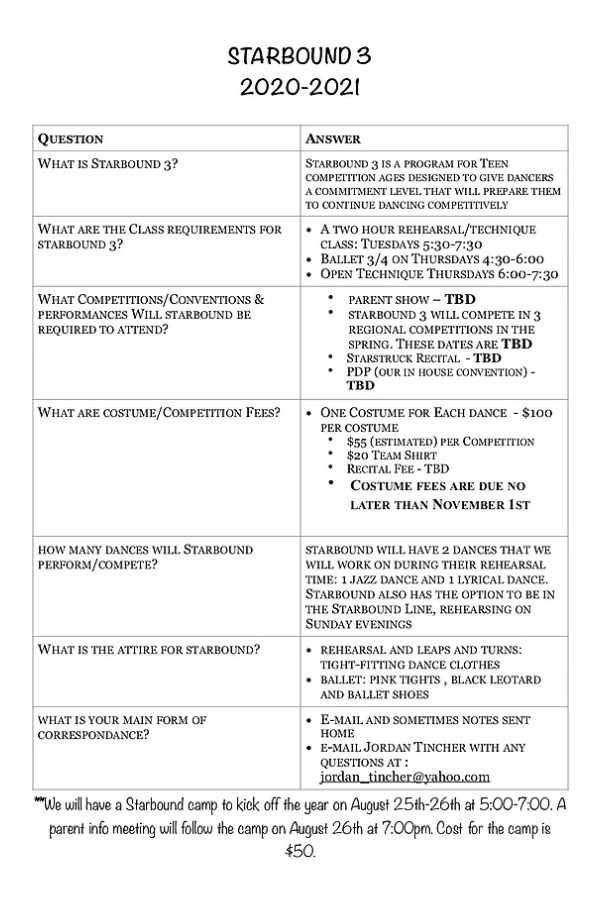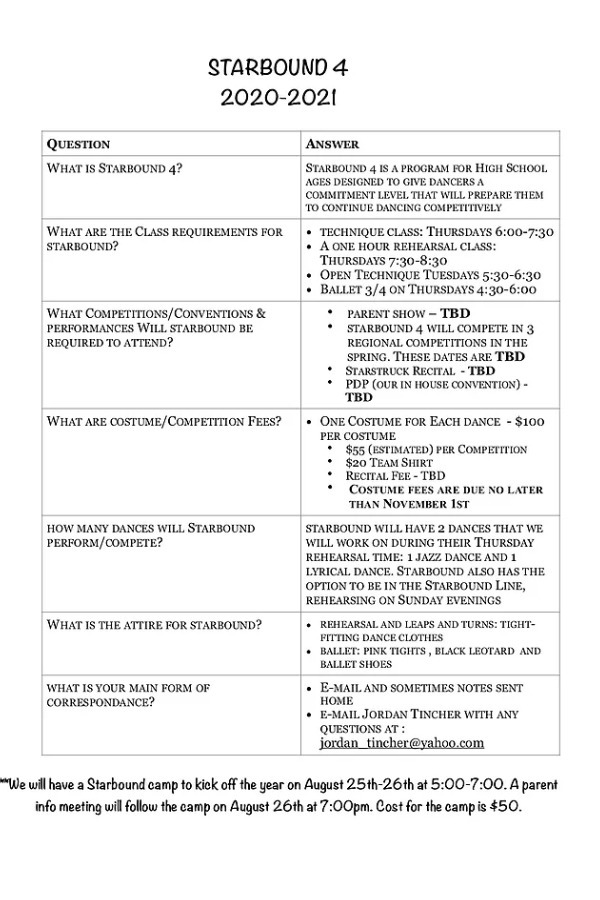 PLEASE TAP BELOW FOR INFO ON MINI COMPANY & RISING STARS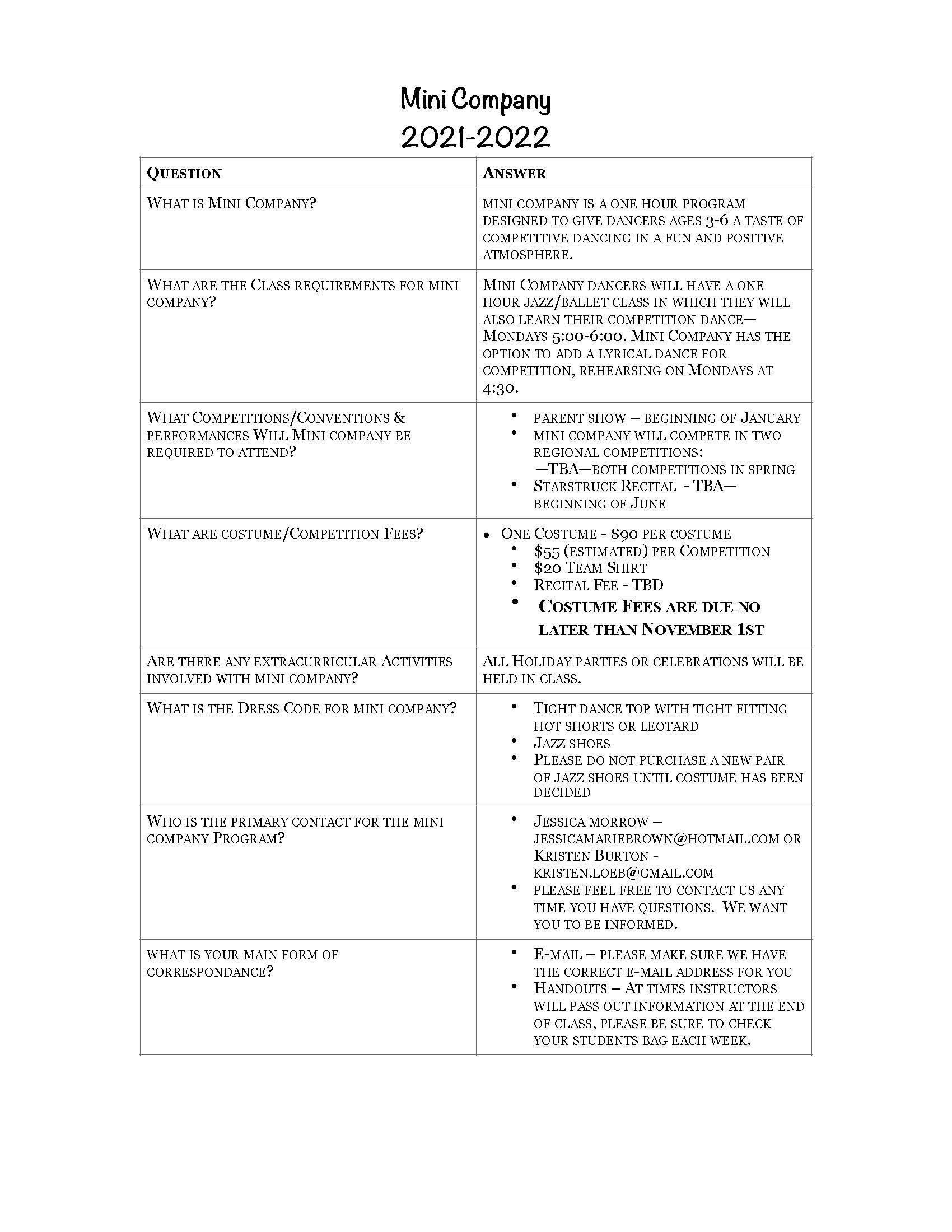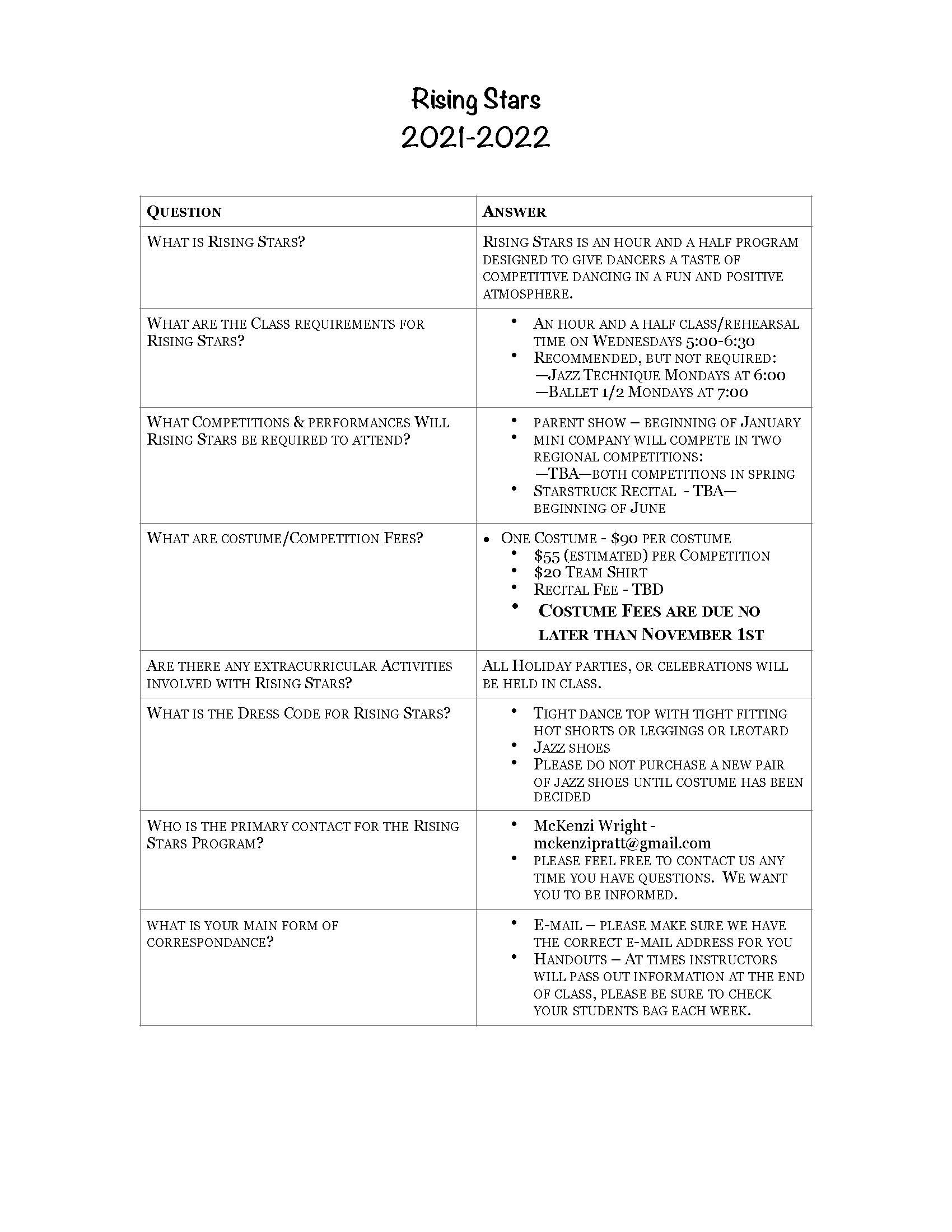 More Than Just A Dance Studio​

Starstruck is dedicated to dance education and giving its students a solid foundation in dance. We believe in teaching students the importance of self motivation, goal setting, and proper technique. We strive to teach students to take responsibility for their improvement and to work to their maximum potential. We believe a dance studio should be a friendly and safe place to grow as an artist. Students and parents are expected to have a positive attitude, to maintain a drama free learning environment. We believe dance should be fun! We want our students to gain great life skills by being a member of the Starstruck team. We believe that teachers should be educated in dance at the college level.


SPAC Dance Facility

Starstruck Performing Arts Center is located two blocks East of 85th and Quivira in Lenexa, Kansas. The state of the art facility is 14,000 square feet with six large classrooms that have raised wood floors covered with Marley Flooring. There is one smaller room used for Tiny Tots that make a total of seven dance studios for instruction.There is a newly remodeled waiting area at the facility and ample parking to accommodate students and parents. The studio is staffed from Monday through Thursday and on Saturday mornings.

The facility also contains two student lounges with a microwave, refrigerator and a study area for student use.


Stop by the studio for a tour!
READ MORE ABOUT OUR STAFF
Location
Starstruck Performing Arts Center​
11650 W 85th St
Overland Park, KS 66214